MARY JANE GOMEZ VISA CONSULTANCY is engaged in consultancy services for foreign nationals who are interested to retire in the Philippines.
"Strive hard and hit the mark", that is what Ms. Gomez quoted when she encourages her employees and workers to dream big.
Ms. Gomez graduated with a degree of Bachelor of Science in Business Administration Major in Entrepreneurial Management in Philippine Women's University, Taft Ave , Manila . With her strong leadership and competitive skills she was elected as the Overall President of Business Development Center of Philippine Women's University from 1998 to 1999. After Ms. Gomez graduated from college she was employed as a Local Staff of the Consular Section in the Embassy of Japan in Roxas Boulevard, Pasay City.
At present, Ms. Gomez is the President and Director of Grand Beverly Farms, Inc. in San Antonio, Tabaco City . She utilizes her natural entrepreneur and partnership skills that open opportunity to expand marketing efforts and human potentials. She help boost the supply of food and livestock on the community and offer to the residences hundreds of work like employment, assistance on the production of agriculture to ordinary farmers and tenants, and help establish small businesses like dealers and vendors and promote innovative programs from raw materials to new products.
Ms. Gomez maximizes her capability and resources with good economic relevance and quality service that makes her acknowledged. As an experienced leader who has both technical and operational background, this has led Ms. Gomez to be the President/Director of Phil. Active Seniors (P.A.S.CO.) Company, Inc. since March 2005 up to present and she own 40% share. Ms. Gomez started PASCO with the vision of providing employment to Filipinos and to contribute to the country to strengthen the dollar remittances. After three productive years of operation, the employees were now 28. PASCO is primarily engaged in the business of providing consultancy services to foreign nationals with respect to company formation, visa acquisition, local investment and other related activities to enable foreign nationals to stay in the Philippines as visitor, investor or retiree. It is secondarily engaged in acquiring, leasing and/or selling real properties and facilities necessary in providing the above consultancy services. It is also engaged in the business of Estimation of Bill of Quantity, in which the clients are mainly Japanese firms.
When Ms. Gomez was accredited by the PRA (Philippine Retirement Authority) last February 2007 as a Marketer, she established Mary Jane Gomez Visa Consultancy to serve as a consultant and to assist foreign nationals in acquiring SRRV (Special Resident Retiree's Visa). Ms. Gomez is the youngest and the most trusted accredited marketer of PRA. From PIO, she was elected as one of the Board of Trustees for the year 2009 of PRAAMAI (Philippine Retirement Authority Accredited Marketers Association, Inc.), a union group of accredited marketers of PRA.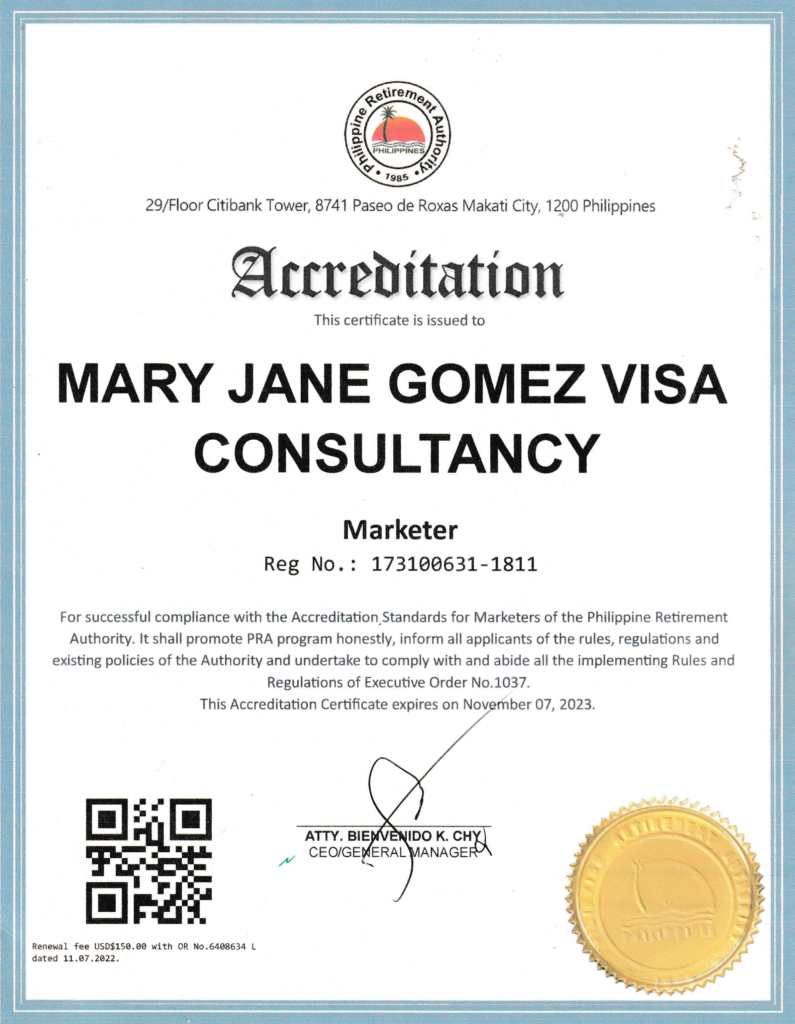 PRA Accreditation for the year 2023